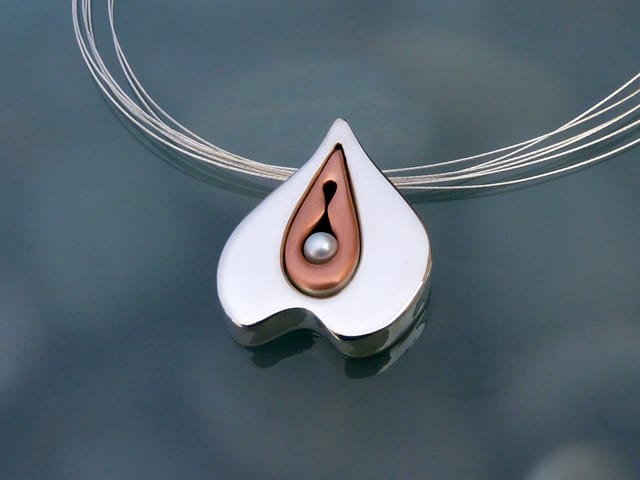 Trinity
A polished fine silver hollow form embraces a separate satin-finished copper-topped shadowbox with a pearl in this stunning, bold and very feminine piece. Flowing shapes and differing textures and materials are visually and tactilely appealing. The outer pendant is flat and smooth while the inner copper and silver pendant is buffed with a rounded, convex surface. As the copper on the inner pendant matures, it will respond to the environment and its color will shift and deepen.
I call this Trinity because two pieces come together to make the third unique piece. Each piece may be worn individually for three distinctly different effects. Stay tuned for each form to be posted as individual pendants in parts two and three.
Altogether, the two pendants as a whole are approximately 1 1/2 inches wide and 2 inches long. The copper inner shadowbox pendant is 1/2 inch wide and 1 1/4 inches long, and fits inside of the silver outer pendant. Both are about 1/4 inch deep. The back of the pendant is signed on brushed silver. Shown with a 7-strand 16″ silver omega necklace.
Trinity